On the eve of a Pro12 semi-final that only the most optimistic of supporters might have predicted, I think that announcing the TRK Player of the Year Awards for this magnificent, emotional, almost cinematic season is entirely appropriate. Why? Because regardless of what happens in this semi-final, the achievements of this team during this tumultuous season have to be acknowledged.
First of all, remember where we were last season. It seems like two, three seasons ago doesn't it? In that end of season review, I wrote the following;
When this season is looked back on in a few years, it'll either be seen as a low water line where Munster said "this far, no further" and kicked back to better things, or it'll be seen as the harbinger of a depressing new reality.
I hoped it would be the former, but feared it would be the latter. Yet, despite the gloom, you could see that Munster weren't that far off. As I also wrote;
There aren't many teams in world rugby that could survive the loss of Peter O'Mahony and Paul O'Connell in the same season. That's trip over a black cat under a ladder through a mirror bad luck. But it got worse.
We lost our only natural openside Tommy O'Donnell until January. We lost two flyhalves to long-term injury (Holland and Bleyendaal) and lost another to career low form – but had to keep playing him. We lost Mark Chisholm and Donnacha Ryan for extended periods. We lost our #1 hooker Duncan Casey for the season. We lost Stephen Archer for most of the season. We lost Denis Hurley for most of the season. We lost BJ Botha, Damien Varley and Felix Jones to retirement. All in the same season.
Someone should check if they built the new UL training facility on an ancient Indian burial ground.
This year, we haven't had this litany of catastrophes and, as it happened, we flourished in ways that seemed impossible 12 short – yet improbably long – months ago. Narrow losses last season turned into narrow wins. Sometimes they were thumping wins. But Christ, I'm proud of what this team has achieved. The result of the semi-final won't change that, it'll just enhance it.
Vague predictions from the end of last season are one thing…
The arrival of Rassie Erasmus and others will surely lead to a raise in standards that should see us improve on this season's league form. A top 4 slot with a home semi-final is a very realistic target given the margins this season.
Making them happen is another. Yes, I put that into back slap myself. No, I'm not sorry.
This kind of turnaround doesn't happen without outstanding performances on the pitch. So let's move past the 90's sitcom clip show feel that I've generated here so far, and get to the winners.
New Signing of the Year
It's never easy to come into a new club and have an immediate impact. Sure, that's what you're supposed to do, but it's way easier said than done.
The winner of this year's Three Red Kings New Signing of the Year award is a guy who's had a cultural impact on Munster that I've rarely seen. His tries, immense physicality and brick wall defence will go down in Munster lore for many years to come. He arrived unheralded (almost), to the sniggers of some – a sign of Munster's decline – but it's a credit to him that the same lads were bitching into their hands that we were allowed to keep him four months later.
The Three Red Kings New Signing of the Year 2016/2017 winner is the unheralded, unstoppable and unforgettable Jaco Taute. When his two-year deal gets announced today (hopefully!) the celebrations will be all the proof you need of his impact.
A quick mention to the excellent Rhys Marshall and Jean Kleyn who, in any other year, would probably have walked this award.
Young Player of the Season 
The roots of this started last season, with our inaugural winner Rory Scannell. No squad will be successful without a phalanx of young talent soaring up through the ranks, pushing those ahead of them. A lot of Munster's success this season can be pointed at these young men – stepping in as they have with outstanding success in the Pro12, the victory over the Maori All Blacks, and even the Champions Cup.
This year's winner is one who appeared at every top level for Munster this season and is desperately unlucky to miss out on an Ireland cap this season. But it's just a matter of time for this guy. Remember him burning the NZ Maori on the outside in Thomond Park? Remember him taking that one handed over the shoulder catch against Glasgow in Scotstoun? Remember his double tackle in the Axel game? Remember the offload to Jaco against Leinster? Who doesn't? You remember Darren Sweetnam.
His game is characterised by superb work in the air, outstanding pace, excellent hands and offloading and a rugby intelligence that is only going to get better and better. And he only turned 24 this month.
Forget about the GAA. Forget about hurling. Forget about the Cork minors. Darren Sweetnam is more than the sports he used to play. He is a top quality rugby player now that's improving with every second he spends on the pitch. And he's the Three Red Kings Young Player of the Year 2016/2017.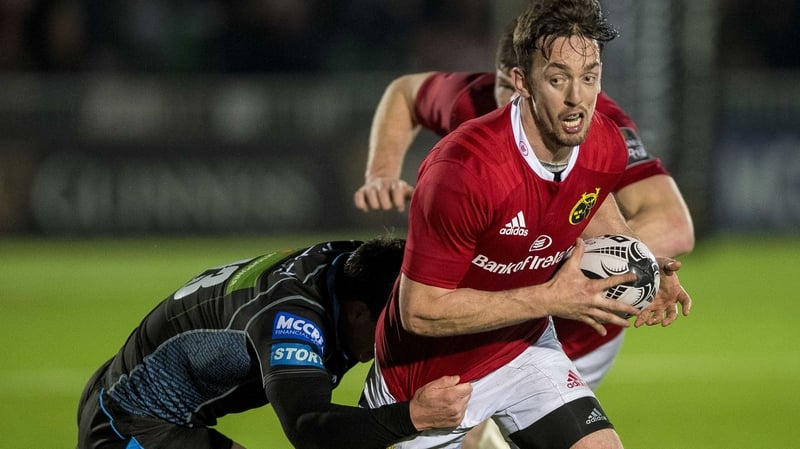 A quick word to Conor Oliver, Dan Goggin and Rory Scannell who also deserved their nominations after an excellent season. 
Senior Player of the Season
And finally, we get to the main man.
When you look back on Munster's colossal season, there's one man who stands out through all of it – and what's more, he's a new colossus. Not new in reality – he's been at Munster for years – but new in that his emergence as one of the best players in his position Europe came as a pleasant surprise to many. Like finding €200 in an old jacket.
He always had the potential to become this guy but it's another thing to deliver. Every single week was supposed to be the week that John Ryan got found out and every week, John Ryan blew the doubters out of it.
When it came for test level to expose him, he blew that out of the water too. He came on and do a job against England in the Six Nations finale, and crushed that too.
What a season.
John Ryan's performances are such that you can't really imagine anyone else playing there for Munster, even after just this season. Remember the conniptions about Munster not being allowed to sign a tighthead prop last year? John Ryan has turned that particular squabble into a nonsense. It's as if he's always been the man. That's the scale of his performances.
Some say that scrum is still running backwards. He butchered so many looseheads this season that he's on the FBI's most wanted list. He's added immensely to his loose play – handling, carrying, passing – and become a real set piece leader. He's got an engine like a JCB and a fend like a Terminator playing mini rugby.
There have been a few outstanding performers this year – Stander, O'Mahony, Zebo, Earls, Niall Scannell, Killer – the list goes on but John Ryan is the standout with 51% of the poll from 12,489 TRK voters. John Ryan is the man. He's a bull. And he's the Three Red Kings Player of the Season 2016/2017